Latest News
Go Green with Us:
We've gone green. All our new websites servers are now 130% wind powered! We're not just neutralizing our environmental impact, we're reversing it! See our Green Web Hosting page for more information. What's more to encourage you to use our green web hosting we will give you 40% discount off our web hosting if you also take our web design services.


Plants For A Future: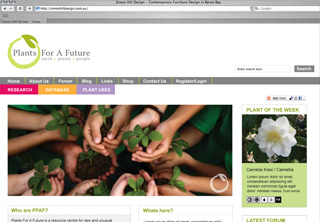 We are redesigning the web site of the charity Plants For A Future (PFAF). The site will have a completely new fresh design with: a content management system (so PFAF can update the website and database themselves); a mobile device version; RSS feeds; discussion forum; blog; and improved search engine optimization.

Content is to be improved by adding images and additional information to the database while a more educational slant introduced. The project takes into account revenue generation, promotion and PFAF development. The project should be completed early 2010. Plants For A Future is a resource centre for rare and unusual plants, particularly those which have edible, medicinal or other uses. They support vegan-organic permaculture with emphasis on creating an ecologically sustainable environment based largely on perennial plants.
Ahana Byron Bay. Luxury Accommodation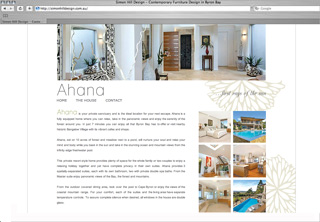 We have recently completed a fantastic website with maverick graphic designer Louise Barrow. Ahana is a private sanctuary where you can relax, take in the panoramic views and enjoy the serenity of the forest around you. It is only 7 minutes from Byron Bay. Ahana, is set on 10 acres of forest and meadow next to a pond, with stunning ocean and mountain views from the infinity edge freshwater pool. This private resort-style home offers plenty of space for the whole family or two couples to enjoy a relaxing holiday together and yet have complete privacy in their own suites.
40% Discount on Web Hosting
Don't forget we will give you a 40% discount off web hosting if you also have your website designed by us to encourage you to GO Green